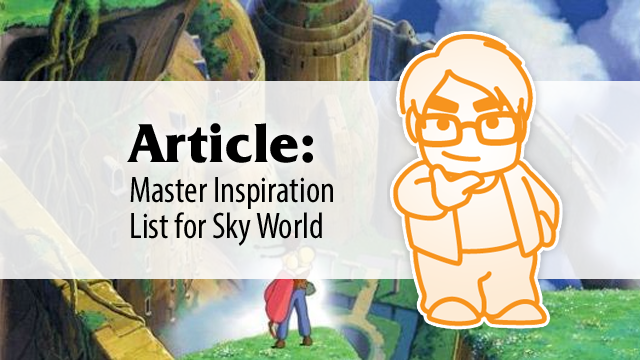 In the most recent episode, I mentioned having found the old notebook that contained a master list of inspiration for the Sky World we detailed in Episode 8: Let's Build a World. I was originally going to scan the page in and post the image but my handwriting is atrocious, so I've decided to present the information here as a bulleted list! The list contains the full titles of the materials so it should be fairly easy to google anything you're unfamiliar with.
Sky World
The Adventures of Tin-Tin
Howl's Moving Castle (book and movie)
Castle in the Sky
Guardian Heroes
The Legend of Zelda: Wind Waker
Skies of Arcadia
Brave Fencer Musashi
Legend of Mana
Dragon Ball
Kiki's Delivery Service
Samurai Pizza Cats
The Cat Returns
Surface World
Princess Mononoke
Nausicaä of the Valley of the Wind
The Vision of Escaflowne
the Black Cauldron
Dungeons and Dragons: Shadow Over Mystara
The Legend of Zelda series of games
Farmer Giles of Ham
The Smith of Wooton Major
Gargoyles
Tim Burton Movies
Conan the Barbarian and Conan the Destroyer (films)
The Neverending Story
Mouse Guard
Both
Cave Story
The Fable Series (video game)
The Princess Bride (film and novel)
The World of David the Gnome
Mega Man Legends
Avatar: The Last Air Bender
Sonic the Hedgehog: The Movie
If people want, I could post links to whatever you're unable to find so that you can check out a lot of this stuff for yourself!
(Header photo from Castle in the Sky)